Cresselia

Lunar Pokémon

Ability: [ability=levitate]
Height: 4' 11"
Weight: 188.7lbs / 85.6kg
Gender: Female

Primary Region: Full Moon Island in Sinnoh and its surrounding areas.
Title: The Maiden of Dreams
Orientation: Neutral Good

Pokédex Entry: Cresselia, the Lunar Pokémon. Shining particles are released from Cresselia's wings like a veil, and it is said to represent the crescent moon.
Illuminated beneath the brilliant moon. wrote:Cresselia is surprisingly beautiful, with a sleek blue swan-like body with a yellow underside, and two magenta tufts that form an arc on her chest.  A large magenta orb crests her head and golden ornaments on either side of her face curve together, framing her with what looks like dual crescent moons.  Her eyes are the same brilliant color as the orb on her head, glowing in the frame of her face like gemstones. 

Rather than traditional wings, hers are glowing pink, and ring shaped, almost reminding one of a tennyo's scarf, or the rings of Saturn.  Despite the shape, her wings are made of sparkling, delicate feathers.  Similarly colored magenta paw-shaped protrusions rest curled together on her chest.  She is actually quite petite, her fully stretched body not even reaching five feet in total.  Despite the obvious bird shape of her body, she is much more streamlined than this, sailing through the sky as a fish might swim through the ocean, wings beating in vibrations that leave trails of pink and pale blue light behind her.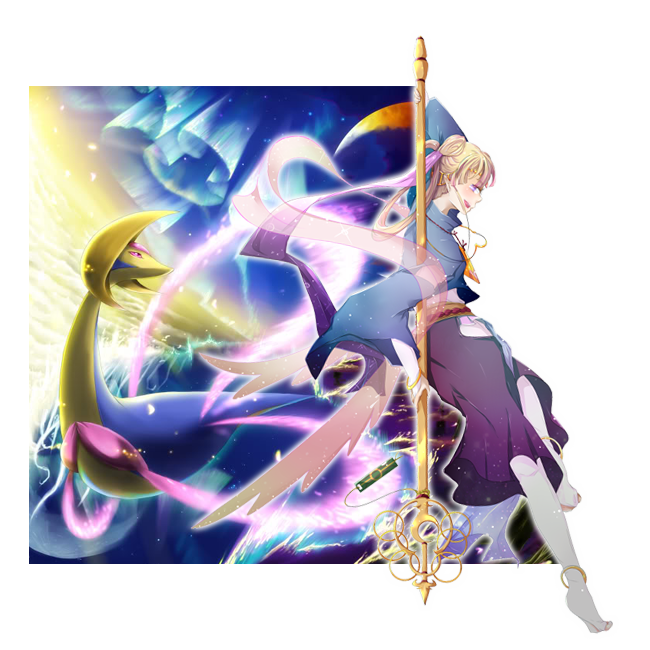 Artwork by
B0409d
(front) and
Inarimeshi
(back).

The moon looks upon many night flowers; the night flowers see but one moon. wrote:Cresselia is an incredibly gentle soul, who worries for the ill.  Some could describe her as motherly, though she would define herself as being the pale moon, bathing the world in a soft light that chases away the darkness. 

When someone suffers from bad dreams, or the nightmares induced by Darkrai, her counterpart, she dispels them, inducing pleasant dreams in return.  She can heal psychological scars if the sufferer but looks upon her.  Like the moon, she has the capability to be harsh as well, but this is shown especially towards Darkrai, with whom she often does battle. 

She takes her position as the Maiden of Dreams very seriously, traveling not just across Sinnoh, but all across the world, chasing the Lord of Nightmares and leaving her delicate and shimmering feathers to ward away the torments he leaves in the minds of others.   Many consider her as a sandman of sorts.  Rarely does she speak, though she is capable, her voice lilting and melodic, likened by those who hear it to a lullaby.

| | | | | | | | | | |
| --- | --- | --- | --- | --- | --- | --- | --- | --- | --- |
| | | | | | | | | | |
| x1 | x1 | x1 | x1 | x1 | x1 | x0.5 | x1 | x1 | x1 |
| | | | | | | | | | |
| x0.5 | x2 | x1 | x2 | x1 | x2 | x1 | x1 | x1 |   |


Legendary Pokémon do not specifically learn moves via TM/HM, breeding or tutoring naturally. Instead, any move that they can know, by any method, can be listed as being in their move pool.
By Leveling Up

Start: [attack=lunar-dance]
Start: [attack=psycho-shift]
Start: [attack=psycho-cut]

(STAB!)

Start: [attack=moonlight]
Start: [attack=confusion]

(STAB!)

Start: [attack=double-team]
Level 11: [attack=safeguard]
Level 20: [attack=mist]
Level 29: [attack=aurora-beam]
Level 38: [attack=future-sight]

(STAB!)

Level 47: [attack=slash]
Level 57: [attack=moonlight]
Level 66: [attack=psycho-cut]

(STAB!)

Level 75: [attack=psycho-shift]
Level 84: [attack=lunar-dance]
Level 93: [attack=psychic]

(STAB!)

Level 99: [attack=moonblast]

By TM/HM

(Gen V)

This Pokémon has learned no moves by TM/HM.

By Breeding

This Pokémon learns no moves by breeding.

By Tutoring

This Pokémon has learned no moves by tutoring.

I like to think that the moon is there even if I am not looking at it. wrote:

Cresselia drifted across the sky slowly, a shimmering aurora like trail of light following her movements across the blanket of the night.  High above the full moon hung heavy in the sky, a milky white orb amidst the stars.  Her head arched upward as she moved, and she lifted further into the sky, the pulsing beat of her wings propelling her across the skies. 

Far beneath her, sleeping and dreaming, the citizens of Sinnoh slumbered in peace, the nightmares of the black creature that was her opposite receding into the recesses of their minds.  Her head slowly dipped forward on her long neck, as her flight drew her downward, the wash of pale blue and pink light that illuminated the sky behind her hanging like a rippling curtain. 

The open window of a restless dreamer beckoned and she drifted toward it, nudging the sleeping child in the bed softly with the tip of her golden nose.  The youth who had been tossing and turning immediately turned towards the touch, blue eyes drifting half-open, sleepily, as the gentle swanlike creature brushed her hand.  The effect was immediate; the haunting dream that had been clutching the child giving way to softer dreams and a musical voice that whispered her to sleep. 



"Sleep, innocent dreamer, and be at peace."

  Withdrawing from the window, Cresselia gave a single soft beat of her wings, a single iridescent feather drifting to rest on the girls' pillow as the Maiden of Dreams lifted back into the sky.

There were many more dreams to settle this night, the Lord of Nightmares not far ahead of her now.   With a shift of her body that showed only the barest hint of her determination, she broke into the sky at a swift pace.