No one can work where we are headed. wrote:

Name:

Satomi Hakase

Nickname:

N/A

Age:

22

(July 14th)

Gender:

Female

Birthplace:

Mahora City, Rota

Family:

Mashi Hakase

(Father),

Harua Hakase

(Mother)

Trainer Orientation:

Lawful Neutral

Trainer Class:

High-Tech Maniac, Scientist

Starter Pokémon:

Magnemite

Character Type:

Minor Character

(Player Permission: Chris Ganale, Dischord, MizuJakkaru, and Paradox)

I am in search of a way to escape... wrote:

Plasma [Magneton] — Hand me that sprocket. A Pokémon who is as much the companion of Satomi as it her laboratory assistant at times.  When conducting experiments that require alternative sources of energy, Satomi makes use of Plasma's abilities, and the Magneton is typically a very willing participant, eager to be of use to it's trainer and owner.  When out of the laboratory setting, Magneton is seen constantly attempting to nudge Satomi into social situations with other individuals, as the scientist can be a little reclusive when she's deeply involved in any particular project.
—Captured in Mahora City.

Ability: Analytic
Move Pool: Charge Beam, Discharge, Gyro Ball, Lock On, Magnet Bomb, Metal Sound, Rollout, Shockwave, SonicBoom, Thunderbolt

Give me those back! wrote:

Supah [Male Wooper] — Pantsu~! Supah is an experiment of Satomi's that went horribly, horribly wrong.  Supah was originally meant to be a way for Satomi to attempt to harness hydro-energy in one of her projects, but a minor accident in the lab cut that short.  Instead of being a useful Pokémon, Supah tends to stand around with a mildly dumbfounded expression on his face, typically in Satomi's way in some fashion.  Supah however, has a hyper intelligence that he turns to less savory things, as the Pokémon is typically found trying to find a way to peek up the skirt of any of Satomi's lab assistants, anyone who visits, and the scientist herself.  One notorious accident involves a bath tub, a missing rubber duck, and Satomi in a towel chasing the Supah around as it darted through the halls wearing a pair of her panties on it's head.
—Born in Mahora City.

Ability: Water Absorb
Move Pool: Ancient Power, Aqua Tail, Dynamic Punch, Earthquake, Haze, Ice Punch, Recover, Return, Toxic, Waterfall


...The hollow mood that blocks the future. wrote:Satomi is of middling height with black hair. She typically braids this hair into two pigtails at the base of her skull. She is always seen with a pair of round glasses set upon her nose. Clothing-wise, Satomi is almost always seen in a lab coat of some kind nowadays.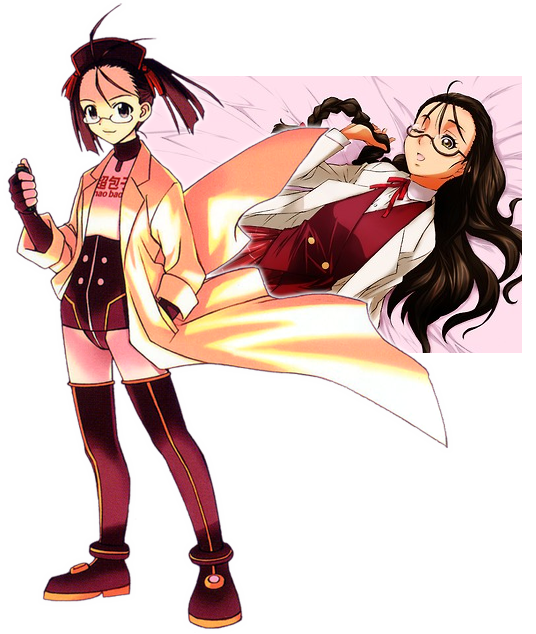 Artwork by Ken Akamatsu (front) and Haruka Shiya (right).

I will make full use of numerous methods. wrote:Satomi was the 14th student on the class 3-A roster in the past. She is the robotics expert of the group. She is best friends with Chao Lingshen and together they have created many robotic projects.

She and Chao enjoyed testing her inventions on Ku Fei. She is also a member of the Robotics and Jet Propulsion Society of Mahora University and always asks the organization to provide her room for her experiments. Her great intelligence, obsession in her work, and somewhat lacking common sense, lead her classmates to refer to both her and Chao as mad scientists.

She stated her biography that she dislikes things that cannot be explained or scientifically proven, despite the fact that she is well aware of magic and uses it frequently in her work. Nowadays, she heads the science divisions of Mahora University.

I hope one day to meet that light once again. wrote:

Regular Abilities

______________________________________

└-

Skills, professions, knowledge and talents. Learned:

Her great intelligence, obsession in work, and somewhat lacking common sense, leads her classmates referring to her as a mad scientists along with Chao. She also has a very keen eye and among the class. In her biography, she states dislikes things that cannot be explained or scientifically proven, such as Psychic and Aura abilities.

│
├─Classification: Talent
├─Category: Knowledge
└─Power Level: Master

Super Genius:

Satomi is the robotics expert and thus, one of the smartest members of the class. She is also a prominent member of the school's Robotics and Jet Propulsion Society. It is implied that she now works under Chao at Misriah, though there has been no confirmation of this so far.

│
├─Classification: Talent
├─Category: Knowledge
└─Power Level: Master