SN CC-409871. wrote:

Name:

Catherine Elizabeth Halsey, MD, PhD.

Nickname:

Halsey

Age:

20

(December 24th)

Gender:

Female

Birthplace:

Point Vernon, Australia

Family:

Josiah Halsey

(Father),

Mercy Halsey

(Mother),

Kalmiya

("Daughter", SMART AI)

Trainer Orientation:

Neutral

Trainer Class:

Doctor, ONI Chief Scientist, AI Developer

Starter Pokémon:

Porygon


The sacrifices I made. I hope they're worth it. wrote:

Spark [Porygon-Z] — "I am a genius."

Halsey's first Pokémon, and one of the first companions she ever made, 'Spark', as it's called, is technically one of her first prototypes for Aritifical Intelligence. A Pokémon that has technically gone mad from the amount of time that it has been in operation due to the way AI was made at the time, Spark is hyper intelligent, and floats along with Halsey, criticizing many of her projects and ideas. But there is some affection between the two, as Halsey considers Spark to be her closest companion. Spark began as a Porygon, with code that Halsey effectively stole from Silph Co., and reproduced on her own thanks to her Whispered abilities, for want of a friend.

—Created by Halsey, Age 8.

Deja [Shiny Pokédex Rotom] — "Of course, Doctor Halsey."

A highly advanced piece of Pokédex technology utilized by Catherine, that was later possessed by a Rotom. Named Deja (short for Deja Vu), this Pokémon became a handy tool and companion for the Doctor, allowing her to evaluate and gain information and process it at a speedy rate. The fusion of the Rotom and the Pokédex helped Halsey with her latest AI innovations, and are where the idea first originated to create Kalmiya, her most recent smart AI.

—Obtained from ONI Headquarters.

Doctor Halsey? They're ready for you in the surgical suite. wrote: Halsey is of average height, standing at a full five feet and seven inches tall, weighing in at a somewhat sleight 117 lbs.  Her straight, shoulder-length hair is light brown to blonde, and her eyes are a a shade of gray-blue.  Physically, she does not seem like much, being neither very tall, nor physically imposing at first glance.  Halsey carries herself with an air of confidence that comes from being a very self-aware individual.  She has confidence both in herself and her intelligence.  She is comely without being extraordinarily pretty.  

When it comes to fashion, she prefers simple civilian issue clothing, or the trappings that declare her a scientist.  Though they are not necessary all the time, Halsey wears glasses when working, for their practical application more than anything else.  Fashion is not her forte, though she always looks 'presentable', and generally prepared for work.  She favors lighter clothing that does not restrict her sometimes fast movements around her work-space.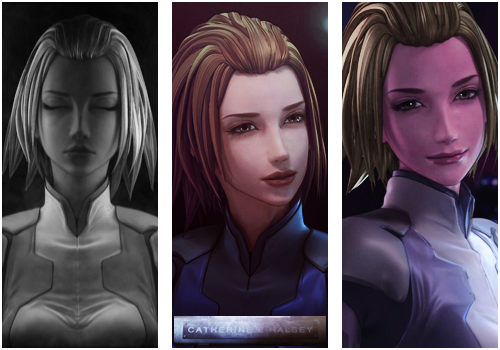 Artwork by Bungie (left, center, and right).

Don't make a girl a promise if you know you can't keep it. wrote:Halsey is a woman whose intelligence is unquestionable, as is the amount of loyalty and on some levels, respect, she commands from her comrades and from the members of the Spartan program.  She has what some may consider a skewed sense of right and wrong, feeling that the salvation of those who will be inevitably spared during the war with the Darkness will outweigh the lives potentially ruined by the SPARTAN project. Because of this, she carries within her a great sense of guilt.

In more personal interactions, Halsey is seen as almost cold, if only because of the logic with which she faces any and every situation.  She retains a very serious air, though she is capable of teasing and laughter, these incidences are few and far between. It takes a certain kind of closeness to get Halsey to open up the warmer side to her, along with a certain personality type: they have to be capable of meeting her on an intellectual level, something that very few seem either willing, or able to do.

Halsey has a love of classical and impressionist music, particularly Debussy and often spends her long working hours listening to one piece or another.  She has a fondness for coffee, though she is often distracted by work and leaves it for hours, sometimes days at a time.  She isn't keen on losing for any reason, as displayed when she decided to stop playing Twenty Questions with the Spartans, after they began to consistently beat her. In general, she tends to prefer the presence of AI's to humans, liking the simplicity of them, even if their intelligence sometimes threatens to outshine her own.

Whatever it takes. wrote:Born December 24, 1994 at 10:75 p.m. in Point Vernon Australia, Catherine Halsey is the daughter of Josiah and Mercy Halsey. As a child, Catherine's behavior gave glimpses into the potential she possessed. Even as a young girl, Halsey's intelligence outstripped that of her parents. Always reading, talking, and  learning, she was incredibly eager to share her knowledge with anyone who would listen. Quickly overwhelming her parents, they began looking for increasingly more prominent schooling to send the girl to, ones that might challenge her mind more adequately.

At age 10 she was sent to Queensland Gifted, an elite academy where she continued to push the standards of education. Eventually, her exceptional performance was noted by the Dean of Biological Sciences at Solaris Academy. After an evaluation by the Solar Headmistress, Catherine was accepted into the Academy as one of the youngest students to date, 12 years old, and assigned a guard who would become her constant companion until she came of age for regular academy attendance.

She remained distant from her fellow students, and even her guard was kept emotionally at a distance. A majority of Catherine's focus was spent on scholastic achievement and academic advancement, with her first Doctoral Thesis finished by age 13, and her second completed by age 14. Among her notable accomplishments at Solaris was the supervision of the template for the initial 'smart' artificial intelligence systems, as well as earning her degrees in medicine and computer sciences.

Two years later, at sixteen, Halsey graduated from Solaris Academy. Halsey spent the next two years moving through the scientific community, authoring papers on cybernetics, genetic manipulation and artificial intelligence. She was offered prominent advisory positions at different Universities and Scholastic locales across the world at this time, but refused all of them, instead preferring to utilize private funding and research to continue her explorations into Artificial Intelligence.

At 17 she was hired as a civilian contractor to the Office of Naval Intelligence in the Unovan region. By age 18 she was promoted to the position of Chief Scientist, when she was finally able to legally serve in any supervisory capacity. At this time, she purchased a small hardback journal which would become the first drafting board for projects, innovations and the various other advancements that Halsey would attempt to create. During this period, she obtained information into the experiments conducted by the FAUXâME Corporation from her superiors at ONI, specifically their experimentation on quick aging, as well as their attempts and successes at genetically modifying humans with Pokémon genetic material.

At 19, she was contracted by ONI to create a field unit in response to the threat posed by the Darkness, combating the creatures classified as the Darkspawn. Halsey's solution was considered to be extreme, and utilized some of the research from FAUXâME, combined with her own research into genetic modification. The end result would be a unit of 300 super-soldiers, referred to by the code name SPARTAN. The optimal subject for these modifications would be children between the ages of 8 and 10, and the initial proposal for the Spartan project required a list of 775 recruits.

A year later, and the Spartan project finally saw success. However, the final result was one-fifth, with only one hundred and fifty soldiers emerging solid and sound from the experimentation. These one hundred and fifty men and women would be outfitted with combat armor and prepared for active duty as a first response against Darkspawn threats. Regardless of the eventual success of her efforts, Halsey shoulders no small amount of guilt for her part in the project, and ensures that those who failed out of the program are given the best care possible to deal with the resulting conditions that developed from the experimentation.

At present time, Halsey still serves as the Chief Scientist for ONI, and has just completed work on a third-generation smart artificial intelligence, one which utilizes flash-cloning an existing mind to create an artificial intelligence with a greater capacity for learning. One which will bypass the limited lifespan of the current generation of AI. She dubbed this most recently created AI, Kalmiya.

Is any price too high to pay? wrote:

Regular Abilities

______________________________________

└-

Skills, professions, knowledge and talents. Artistic:

Halsey possesses no small amount of artistic skill, though mostly in rough sketches and drawings, going so far as to detail diagrams and bits of genetic coding sketched out in her journal, along with various self-portraits.

│
├─Classification: Talent
├─Category: Creative, Skill
└─Power Level: Adept

Hacking:

Hacking: Halsey has been playing with computers and writing coding since she was small, going so far as to be responsible for coding several smart AI's. There is no system she cannot technically backdoor, and has been known to 'out think' several computer programs. Her typing speed of 140 wmp doesn't hurt this in the least.

│
├─Classification: Talent
├─Category: Knowledge, Skill
└─Power Level: Master

Knowledge (Medicine):

One of Halsey's two degrees is in medical sciences, focusing on genetic manipulation and general biological sciences. She has utilized her knowledge to create genetic splices of human and Pokémon DNA, resulting in a super-soldier program, codename SPARTAN.

│
├─Classification: Talent
├─Category: Knowledge
└─Power Level: Master

Knowledge (Scientific Studies):

One of Halsey's degrees is in computer sciences, specifically the creation of "smart" AI's - Artificial Intelligence programs that have no limitations in their dynamic memory-processor matrix, meaning that they can not only be taught a vast wealth of information, but can learn and comprehend their surroundings. This is in contrast to "dumb" AI's which focus primarily on mastering one topic.

│
├─Classification: Talent
├─Category: Knowledge
└─Power Level: Master

Leadership Quality:

Halsey has displayed no small amount of skill as a leader in regards to being the Chief Scientist of ONI. She's used to her orders being followed, and also used to not answering to superiors as a partial result of this. She does a much better job of leading than she does following.

│
├─Classification: Talent
├─Category: Knowledge, Skill
└─Power Level: Master

Super Genius:

With an IQ of well over 200, Halsey is on a list of the most intelligent humans currently living. She's also a noted polymath, her expertise and knowledge making her a professional in multiple fields. She has formal degrees as a medical doctor and a computer scientist and has demonstrated remarkable skill in AI development, quantum theory, the engineering of military equipment such as power armor and related technologies, as well as xenoarchaeological research, with her experience crossing almost into Pokémon professor territory as well.

│
├─Classification: Talent
├─Category: Knowledge
└─Power Level: Inherent

Martial Abilities

______________________________________

└-

Weapon specializations and fighting styles. Firearms:

Halsey has some proficiency with firearms, possessing a M6B handgun. She's just proficient enough to care for her firearm, and fire it without potentially shooting herself with it. To date, she's never had to fire the weapon, though it's kept on her person any time she's out of ONI's Castle Base.

│
├─Classification: Talent
├─Category: Skill
└─Power Level: Journeyman

Supernatural Abilities

_________________________________

└-

Psychic, aura or astral abilities. Whispered:

Halsey's considerable intelligence is bolstered by her Whispered abilities. Being Whispered connects her to the remaining fragments of the girl Sofia, a woman who died at the same time that Halsey was born. Sharing the psychic connection with the woman that all Whispered share with, she receives information telepathically about specific future fields of technology. The fields of knowledge vary from Whispered to Whispered, but Halsey's specialty is Artificial Intelligence and computer sciences. She is also able to see a very short distance into the future. This requires great focus on her part, however, and only allows for a limited view. The Whispered also possess the ability to "Resonate" with one another, allowing the thoughts of two or more individuals to meld together. The power comes at a steep price, however, and can result in madness and death if used too much.

│
├─Classification: Psychic
├─Category: Cross-Dimensional Awareness, Precognition, Telepathy
└─Power Level: Inherent

I could fix everything. wrote:

Weapons

_________________________________________________

└-

Weapon and munitions. M6B Handgun:

Noted for comfort and the KFA-2 x2 scope.  This is typically a "Officers Model" variant of the M6 Series sidearm.  It is primarily used by Law enforcement and Governmental security.  The M6B fires 12.7mm x 40 projectiles, and has a hard chrome finish.  The KFA-2 x2 scope is linked into a pair of glasses possessed by Halsey, which provides a miniature HUD.

Technology

______________________________________________

└-

Poké-tech, electronics, and gadgetry. Palm Data Pad:

This computer is always present on Halsey's person.  It contains personnel files from the SPARTAN project, as well as a number of encrypted files.  This data pad can also be used to record, though the precise computer specifications are unknown.

"Smart" Glasses:

These glasses, designed by Halsey, are capable of projecting information both from the internal network of her palm computer, as well as linking to the KFA-2 scope of her M6B handgun.  They have a small HUD, and may be used for everything from accessing the ONI security network for clearance, to reading computer files and accessing the Intranet.

Miscellany

______________________________________________

└-

Small items, tools, or other important belongings. Instant Coffee:

Incredibly important rations that Halsey considers critical for her life, she's always carrying extra coffee on her person, in the event that she runs out of caffeine.

Spartans never die? If only that were true. wrote:

Armor

___________________________________________________

└-

Armor, shielding, and wearables. MJOLNIR Body Armor:

Details

Technology

______________________________________________

└-

Poké-tech, electronics, and gadgetry. MJOLNIR Smart AI Interface:

Details

Inventions

______________________________________________

└-

Misc. created by the character. Project SPARTAN:

Details